Description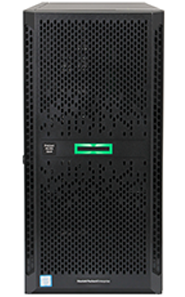 The HPE ProLiant ML350 Gen9 tower server can be used as either a tower server or as a rack mounted server. It features Intel's Xeon E5-2600 v3 and v4 processor family, and up to 24 DIMM slots, nine PCIe slots, 1GbE or 10GbE adapters, eight USB ports, and supports up to four GPU graphics or compute accelerators. It will more than accommodate your current requirements with a single processor, yet can easily expand to support dual processors.
Performance
This 5U platform features Intel's C610 chipset and supports either one or two Xeon E5-2600 v3, or E5-2600 v4 processors with up to 22 cores. HPE SmartMemory provides a 14% percent gain in throughput. Further performance gains are had under the roof of the ML350 by providing you with support for 12GB/s serial-attached SCSI (SAS). You can further augment the system by utilizing nine 3.0 PCIe slots. For graphic performance with a standard configuration, the integrated Matrox G200 delivers 32-bit color with 256MB DDR3.
Memory
The HPE ML350 Gen9 tower server uses the latest quad channel DDR4 memory operating at speeds of up to 2400MHz. With dual E5-2600 v4 processors, and all 24 slots loaded with 128GB Load Reduced (LRDIMM) modules, the system can support up to 3TB of memory. With E5-2600 v3 modules, the system will support a maximum of 1.5TB of memory using 64GB LRDIMM modules. HPE recommends using HPE Smart Memory, which features a patented memory design process to ensure advanced error correction at all levels.
Storage
There are plenty of storage options with the HPE ML350 Gen9 tower server, which can max out at an astounding 144TB using 24LFF x 6TB SAS hard drives. The system will support a maximum of 48 2.5-inch SFF drives, or up to 24 3.5-inch LFF SATA or SAS SSDs or HDDs drives. Up to 6SFF NVMe PCIe SSD drives are also supported. This system comes standard with the HP Dynamic Smart Array B140i, or for performance applications the Smart Array P440ar/2G.
Expansion
With a standard configuration, this system features an HPE embedded 331i with four 1GbE ports. However, you can enhance your operation by upgrading from a wide selection of HP Flexible Smart Array's or Smart HBA controllers. There are eight PCIe 3.0 slots and one PCIe 2.0 slot, meaning ample room for more video cards, NICs, and storage controllers. For graphic performance with a standard configuration, an integrated Matrox G200 delivers 32-bit color with 256MB DDR3. Administrators can also choose from a selection of graphics and computational accelerators including the Nvidia Quadro M5000, Tesla K40 and the AMD W7100 accelerator.
Management
HPE's iLO Management suite offers comprehensive and innovative tools, which include HP Insight Online, HP Insight Control, HP OneView, and HP Smart Update. Server health can be monitored just about anywhere using a standard browser connection, or directly on site using the command line. HPE's iLO Advanced license provides a remote console, virtual keyboard, video, mouse, multi-user collaboration and much more. HPE Provisioning will vastly improve deployment times, making server configuration and deployment a breeze. HP Smart Update automates I/O card and platform firmware updates to help reduce downtime. System insight display is only available on the rack mount configuration.
Summary
Whether an SMB, remote office, or a data center, IT environments are often complex and fast changing. By deploying the HPE ProLiant ML350 Gen9 server you gain a competitive advantage that offers increased performance, more options for expandability, greater flexibility, stronger reliability, and state of the art automated server management.