Operating System
Available with Windows 11 or Windows 10.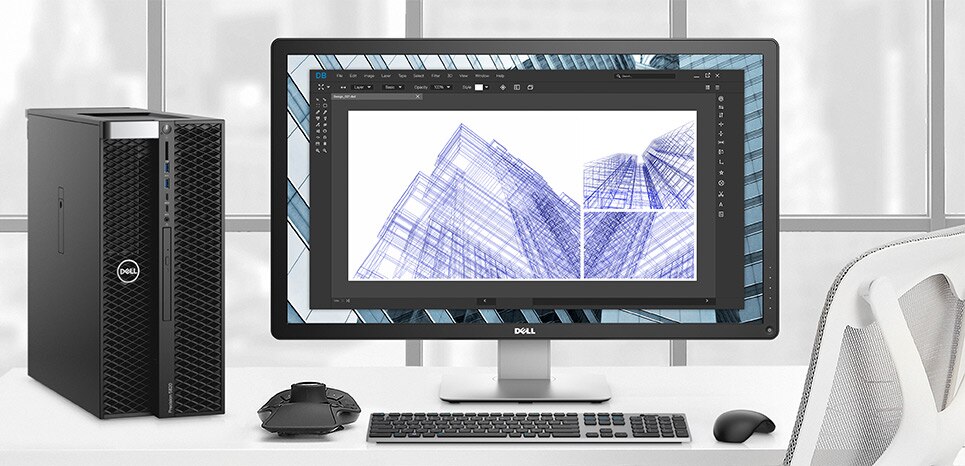 Blazing fast performance
Brainpower that matches yours:
The latest Intel® Xeon® processor powers your most demanding applications. Now featuring a new generation of single-socket architecture with up to 18 cores, you can extract maximum performance for your biggest ideas.

Accelerate every project:
Run your software as fast as possible and get real-time results thanks to this memory expandable machine with up to 512GB of 2666MHz RDIMM ECC memory (not available with Core X CPUs).
Drown out distraction:Focus on your tasks with the workstation that's quieter than ever. A new multichannel thermal design delivers advanced cooling and acoustics.

Built for your future
Room for more:
Your Precision 5820 Tower grows with your ideas no matter where they take you, thanks to a new chassis that combines a versatile design with outstanding storage scalability.
Adapts to your innovations:Your Precision 5820 Tower is ready for complex projects, including virtual reality and AI workflows, with the next generation AMD Radeon Pro™ and highest-performing NVIDIA® Quadro® RTX graphics. Your workstation supports up to 600W of graphics up to 300W per card (950W PSU required).
No project is too big:Up to six 2.5″ or five 3.5″ drives and front access storage including SATA, SAS (not available on systems with Core X CPUs) and PCIe M.2/U.2 NVMe SSD can be configured for up to 68TB total storage and easily swapped. With the hot-swap feature on the M.2 and U.2 PCIe NVMe SSDs, you can remove drives without shutting down the workstation.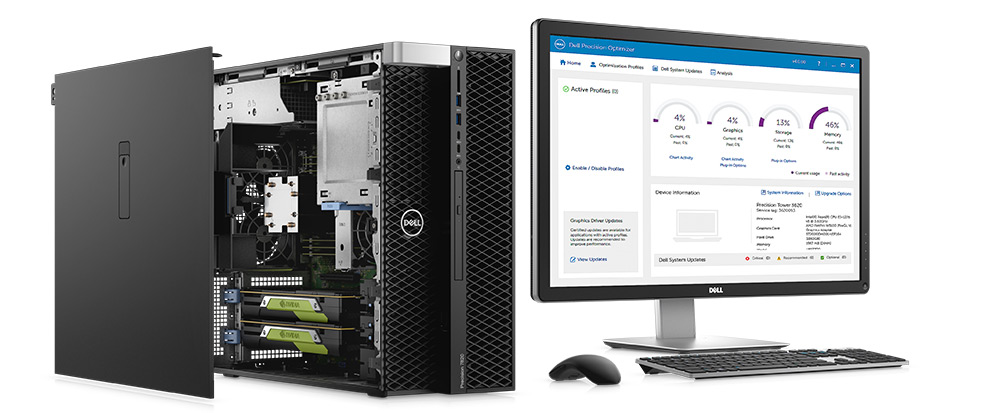 Intelligence that matches yours
Dell Optimizer for Precision is a built-in AI platform that learns how you work and continuously adapts to your style to create a smarter, more personalized and productive experience.
ExpressResponse:Launch your most used apps faster. We use built-in AI and Intel® Adaptix™ Technology to adjust performance levels where you need them most.

Reliability where it matters most
Stay safe, stay secure:
Reduce downtime with Dell Reliable Memory Technology (RMT) Pro. Designed to work with ECC memory, RMT protects your machine from potential crashes by mapping out bad memory locations after the system reboots.
Reliably access your data: Improve the availability of your data with hardware and software optional RAID storage options including PCIe NVMe SSDs and optional Smart Card (CAC/PIV) readers that let you determine who can access your system.
Your work can count on it: Precision Workstations are tested to ensure the high-performance applications you rely on every day run smoothly. Dell ISV-certifications cover the most popular independent software applications.

Al-ready Data Science Workstations